Photo courtesy of Beau Cacao!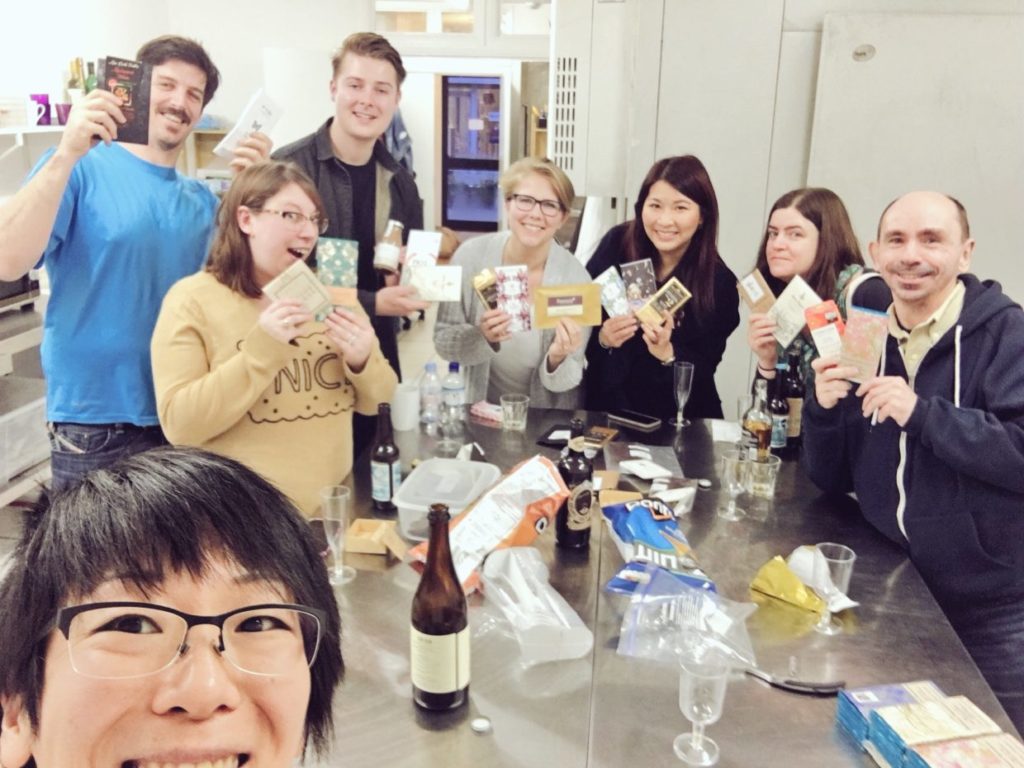 A couple of weeks ago we went down to London to eat some lovely food at Maltby Street Market and meet up with friends at Damson Chocolate in Angel.
It was lovely to catch up with everyone and meet Amanda, who has worked with Harper Macaw and is currently working with Dom, and Cherrie. Not pictured are Hazel and Carol who also popped by.
We took down an order from Dom to stock up the shop (eventful in itself – always check you have all your bags before leaving the train guys… fortunately, Joycelynn at Virgin was a star and we were reunited after it had a journey home to Manchester and back…). We also took Map's beautiful Meteor Shower bar to share, flavoured with toasted sesame and lava salt and Krak's Costa Rican and Vietnamese bars. Krak are one of our new favourite makers after trying so many of there bars when we visited Chocolatl last year, each so distinctive. Map too, we were lucky to receive a very special parcel of there bars at the end of last year!
Last weekend we hopped over to York for a mid-project preview of the new York Cocoa Works site with Paul from Cocoa Luxury and Max from Bullion.
We loved seeing the team at work in the booth at the Chocolate Show last year where they were carrying out live chocolate making for the crowds. We made sure we sent customers their way to find out more about what we ourselves do.
It was great to get a feel for what they will be doing in their new space, as you can see they are aiming to be as transparent as possible allowing people to see every step.
They hope for it be a hub for other people to learn and get involved as well as produce their own chocolate for use by their other site, York Cocoa House, and other businesses.  We followed the tour by Sophie with a wander up to the Cocoa House for their house, bean to bar, hot chocolate and some lunch accompanied by much chocolate chat, about the ups and downs of breaking/winnowing different origins among other things!  Some beans are a joy, others frustrating!
Looking forward to catching up with people this month at the Academy of Chocolate judging and over in Amsterdam while Chocoa is on!